Students age 6 to 13 will learn that there is a time and a place for martial arts training. The program integrates; self-defense techniques, conditioning and skill oriented games aiming to improve your child's motor skills, agility and flexibility. Youth BJJ is a fun class for youth that teaches discipline and helps build confidence.
Our Youth Program introduces students to all of the fundamental positions in Jiu Jitsu – Stand-up, Guard, Side Control, Mount Control, and Back Control.  An emphasis is put on how to piece together several concepts of Jiu Jitsu in order to advance a position.  As students progress through the curriculum, more advanced techniques like specialized guards and more dynamic guard passes are introduced.
As Students become more experienced, they learn more advanced submissions, self-defense and anti-bullying (including proper verbal self-defense, avoidance, and de-escalation) techniques. Submissions include the triangle submission, kimuras, and chokes.  Students will continue to refine their techniques, working on subtle fine motor skills, body awareness, weight distribution, and breath control.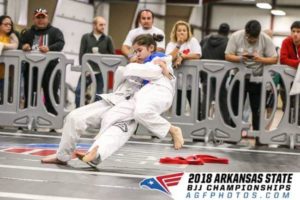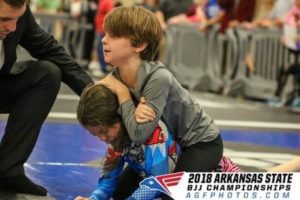 Our Youth No Gi Program expands the scope of Jiu Jitsu instruction to include learning Jiu Jitsu without the GI Jacket.  Students train Jiu Jitsu in shorts and a rash guard and/or shirt.  Without the Gi jacket, students must learn how to control their opponent without Gi jacket specific grips.  Youth BJJ No Gi classes offer a faster and more dynamic style of fighting.
Program Emphasis:
Learn how to control an opponent without using grips on the jacket
Students are taught techniques to control distance and create advantageous position without relying on traditional grips on the jacket
Students are taught dynamic take downs and defenses to common stand-up attacks